APRIL 2015 – A NEW MUSICAL DIRECTOR FOR 'ONE VOICE'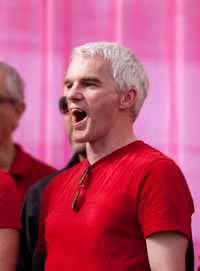 One Voice is delighted to welcome Simon Levermore as its new musical director. Simon took up the position after Easter, carrying on the natural voice principles of the choir's founder, Chris Hoskins, and bringing energy and a fresh perspective to its a' cappella singing.
Simon has been involved in music in one form or another most of his life, from playing French horn in bands and orchestras while at school, to enjoying  a 'mis-spent youth' writing for and playing in an ahead-of-its-time Britpop band through the '80s. But joining the Earlsdon-based Worldsong community choir in 2000 meant Simon rediscovered the joys of singing in harmony, and currently he sings bass and tenor (though not at the same time), as well as continuing to compose.  He also spent a couple of years singing, acting and playing various instruments in a small voice-theatre group called 'Foot and Mouth', creating performances that wove narratives around songs in multi-part harmony from traditional world music.
With a welter of musical and performing experiences, including leading workshops and scratch choirs, Simon is passionate about making singing fun and accessible. Under his direction, 'One Voice' sessions are full of good humour, encouragement and a shared sense of respect and enjoyment. Deceptively 'simple' songs in four or more part harmonies may take a while to come together, but there is plenty of laughter along the way, and the choir is very much enjoying adding to its repertoire.
In keeping with Chris' rich foundations, there is a sense of continuity, yet dynamism, with Simon's own brand of energy taking the choir travelling along new musical roads around the globe. There are no auditions and new members are welcome to come to two free taster sessions to experience the atmosphere for themselves.